On my way into the office I notice a billboard for my hometown bank that read "Commerce Bank. Here today. Here Tomorrow." While it is certainly an achievable level of service that won't create unrealistic customer expectations don't, you agree it's kinda lame? I mean, another way to read this is "We promise not to go out of business and close our doors." Is it possible for my bank to offer less service? How about, "Commerce. We Don't Do Anything but we are open every day."
I am pondering this all after dropping the kids off. I pull in and fill up my tank with really cheap gas (one upside of economic recession). I get back in the car and the darn thing will not start! Cripes! Anyway, I call the dealer who happens to be caticorner (wtf is caticorner?) to the gas station. Not 2 minutes later a van pulls up, jump starts my car and I drive to the dealer. THey immediately drop what they are doing and put a new battery in. 20 minutes tops and a free coffee later I am back on the road to ruin! I turned them down but they even offered a free wash! THAT IS SERVICE (although, this story really doesn't work on a billboard)!!!!!
Special Thanks NISSAN GURUS: CAMERON AND NICK! YOU GUYS ROCK!!!!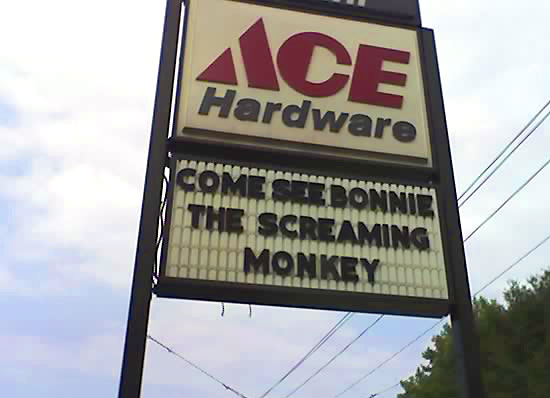 Now here's the kind of signage that makes me want to pull in and check it out!
I will say that Commerce is a fine bank and my family business has had accounts for many years but I have to give em a hard time about this one.